1.  Removable and repositionable.
A durable and long-lasting adhesive. Dreamscape's proprietary adhesive will create a strong bond with most smooth clean surfaces, yet the microspheric chemistry of the adhesive prevents the adhesive from penetrating into drywall and therefore minimizes the chance of damage upon removal.
The media can be applied and reapplied many times over without any sacrifice in sticking power.
2. Thick 3-Ply construction.
Compare this to most other vinyls in the 3-6 mil range we are most often more than twice as thick (ranging from 10-13 mils). This thickness aids in making the product more durable, long-lasting, and helps hide wall imperfections. The thickness also makes the product far easier to remove as it can be pulled off in one complete sheet without tearing or ripping like so many thin vinyls.
Dreamscape Wall + Floor Wraps are reinforced with a triple layer. Sandwiched in between the top and bottom layers of thick vinyl, is a thin layer of fabric.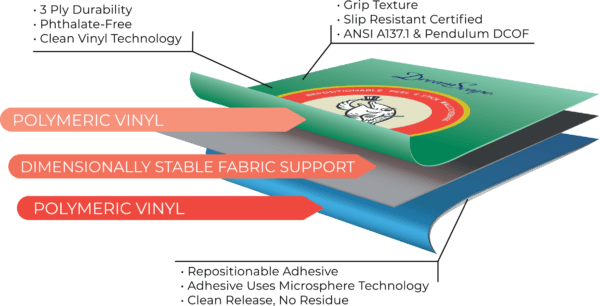 3.  Designed for the ease of short-term use, but long-lasting.
Dreamscape's Wall + Floor Wraps are long-lasting enough to be put on walls as a permanent solution.
4.  Wall + Floor Wraps also come in unique textures.
These textures are not only beautiful,  but they are excellent at hiding minor wall imperfections such as bumps, or dents. One of the unique Wallwrap products called "Brilliant" – contains a specialized sparkle effect in addition to the texture.

5.  Versatile.
The microspheric adhesive properties make Wall + Floor Wrap products more likely to perform well across a wider range of primers and paints. For example, many self-adhesive vinyls will fail with LOW VOC paints. Wall + Floor Wraps are often able to grip surfaces that other products can not.
6. Slip-rated.
Two of Dreamscape's products, Caviar and Ravello – are suitable on both walls and floors due to the unique texture that makes them more slip-resistant and safe to use. They are certified with two tests: Pendulum AS HB198:2014 and ANSI A137.1/A326.3.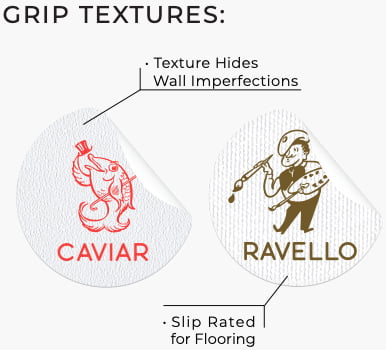 7.  Fire-rated.
Dreamscape's Wall + Floor Wraps carry the ASTM E84-Class A and ASTM E648 – Class 1 certifications.
8.  Made in the USA
All DreamScape products are manufactured right here in the USA.